2 bedroom apartment next to Metro Wilanowska
The apartment is located in Warsaw Mokotow district, with easy access to Downtown and to Politechnika Warszawska ( 4 metro stops) to SGH ( 3 metro stops) , SGGW ( 2 metro stops) .
The apartment has an area of 80 m2 and consists of two rooms ( living room and bedroom), separate kitchen, 2 bathrooms and an hall.
The kitchen comes equipped with a refrigerator, an electric cooker with an oven, an electric kettle and dishwasher.
The living room has comfortable 200 x 120 cm bed, the foldable corner sofa, a table, and four chairs.
The bedroom has a desk, comfortable 200 x 120 cm bed with a separate bathroom, which comes equipped with a sink, a showerhead, and a toilet.
The second bathroom hasa a sink, a showerhead, a toilet. a bidet and a washing machine.
The hall contains two built -in wardrobe.
Internet access with Wi - Fi is available in the apartment.
Wilanowska Rooms location
Wilanowska Rooms plan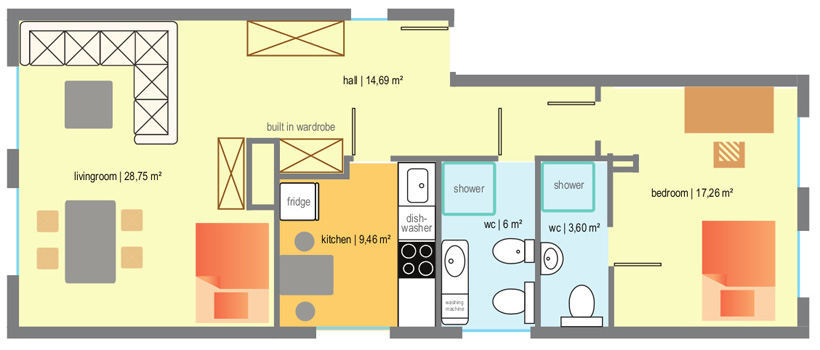 Rooms for rent in Warsaw for Erasmus students The ERASMUS programme is a European student exchange programme established in 1987 offering university students a possibility of studying or working abroad in another European country for a period of at least 3 months and maximum 12 months. Apart from the students, the mobility offered by the Erasmus programme is dedicated for professors and universities' staff as well. The programme is open to 33 countries including Warsaw Poland: Member States of the European Union, EU candidate countries and EFTA / EEA members.